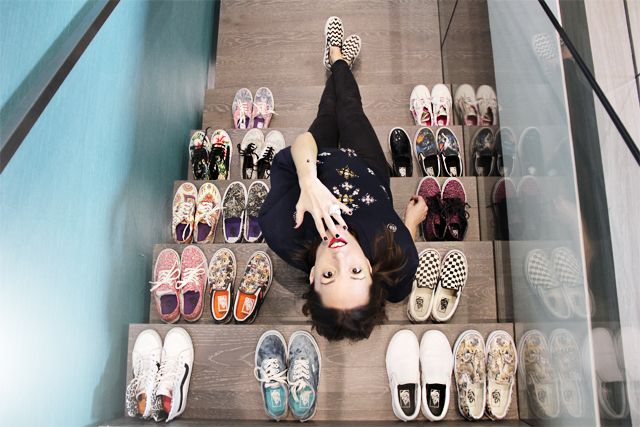 Gabi
Living in Prague
Marketing and PR coordinator, MAC
Ph/ by me
Special thanks to the Emblem hotel.
_
Have you ever wondered what it would be like, if you had a company dresscode? Would you feel limited? Schizophrenic? Or relieved? Meet Gabi. From a stylish job to a stylish closet and the sweetest personality, she has it all. And she will show you the ropes on how to stylishly mix a total black company dresscode with the crush on Czech fashion and a lust-worthy obsession with VANS as if it was the easiest and most obvious thing on Earth. Simple, with a twist. Enjoy!
Představovali jste si někdy, jaké by to bylo mít přísný firemní dresscode? Připadali byste si limitovaně? Schizofrenicky? Nebo by to byla úleva? Poznejte Gábi. Od stylové práce, přes stylový šatník až po tu nejmilejší osobnost, tahle kráska to má všechno. A v dnešním článku vám ukáže, jak zkombinovat celočerný firemní dresscode, lásku k české módě a závistihodnou sbírku Vansek jako by to bylo tou nejjednodušší samozřejmostí na světě. Simple, with a twist. Užijte si to!
I don't mind black, I prefer it. In monochromacity, you get to experiment more. You have to be creative with materials, tones and cuts.