Advertorial
Did you ever immagine three bloggers on an internship at Sephora? No? Because that is exactly what happened two weeks ago. Together with Simone and Johana we spent a lovely day with the amazing team of Sephora, learning everything about their rich line and products. I've never really noticed Sephora brand products, I always shopped for those handy travelling kits and their brushes. Until now. Thanks to the Sephora girls I discovered their line is not only about the handy and travel-sized (even though they do have a best selection out there), they have many good skin-care products, decorative line and lovely bath accessories too! I picked 4 of my newly discovered favourites to test, and I am convinced – Sephora gives you all the tricks and on a good price.
Už jste si někdy představovali bloggerky na stáži / brigádě v Sephoře? Ne? Protože přesně to se událo před dvěma týdny. Společně se Simone a Johanou jsme strávily příjemný den spolu se Sephora týmem, kdy nám holky představily celou řadu jejich skvělých produktů a také jejich novou Školu líčení, kde se pod vedením profesionální vizážistky naučíte buď denní nebo večerní look. Sephora výrobků jsem si popravdě nikdy tolik nevšímala (omámená NARSem a Guerlainem), z jejich řady jsem vždy sahala jen po těch skvělých cestovních vychytávkách a baleních nebo po štětcích. Teď jsem ale objevila spoustu jiných skvělých produktů a zjistila, že kolekce Sephora není jenom o těch pidi-baleních (které jsou ale podle mě nej na trhu), ale skýtá také spoustu kvalitních o pleť pečujících a hydratujících výrobků, hodně dlouhotrvající dekorativní kosmetiky a vlastně také spoustu skvělých záležitostí do koupelny! Mohla jsem si vybrat nějaké produkty k otestování, já vybrala následující 4, a zcela upřímně, jsem přesvědčena – o skvělé kvalitě za příjemnou cenu.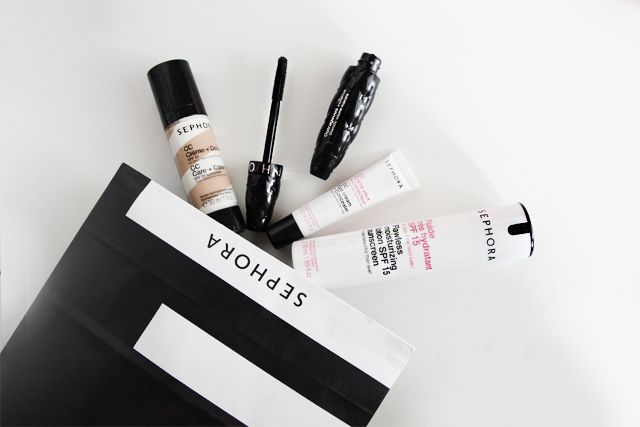 CC creme + color
I appreciate the not so heavy texture and how nice and shiny your skin gets after application. In addition, it provides moisturizing, smoothing, color unifying and cover care.
Oceňuji jemnou texturu i jak se příjemně po nanesení leskne. Kromě toho, poskytuje hydratační, vyhlazující, sjednocující a krycí péči. Zatím místo make-upu, v zimě klidně i pod!
Outrageous volume mascara
My eyelashes are quite voluminous and long by nature (yet very blonde, so it's not a win win) so I'm not sure how outrageous I look to the people around me now, but I love the fact that the mascara doesn't stick or brittle at all. Which is great news for a contact lens user like myself!
Aneb řasenka pro šokující objem řas. Já mám řasy docela husté a dlouhé od přírody, tudíž netuším, jak moc okolí teď šokuji, ale jedno vám říct můžu – řasenka neslepuje, není vůbec potřeba silná vrstva, barví hezky a hodně a hlavně – nedrolí (např. v porovnání s mojí druhou favoritkou Drama od Lancôme)! To ocení každý, kdo má čočky.
CC cream + concealer
Probably the very first CC eye cream on the market! Perfect for hydration and reducing those bad boys under your eyes. It also has a similar texture to the face CC cream, it's easy to apply and gives off a nice shine.
Asi úplně první oční CC krém na trhu! Stačí pro hydrataci, zmírnění kruhů a váčků pod očima. Má podobnou texturu jako CC krém na obličej, hezky rychle se roztírá (otestováno za jízdy) a zároveň hezky rozjasňuje.
Flawless moisturizing lotion
A great cream that offers hydration up to 24 hours with the active ingredient HydroSenn+™. This is the secret of the whole Beauty+ line, a herbal extract that is said to be more effective than hyaluronic acid. Besides the "classic" moisture, the cream nicely unifies and doesn't lack the SPF 15th.
Skvělý krém, který nabízí hydrataci po celých 24 hodin díky aktivní složce HydroSenn+™. To je tajemství celé řady Beauty+, rostlinný výtažek, který je ještě účinnější než kyselina hyaluronová. Kromě "klasické" hydratace krém i poměrně hezky sjednocuje a nechybí mu ochranný faktor SPF 15.
Chcete se také nechat přesvědčit? Přijďte na setkání s námi a časopisem Cosmopolitan 30. 9. mezi 16 – 19 hod. v Sephoře Arkády Pankrác, nechte se od nás nalákat nebo vyzkoušejte Školu líčení a získejte slevu 30% – stačí u pokladny říci "AKCE SEPHORA"! Těšíme se na vás!
Více informací na www.sephora.jenprozeny.cz